Teaching
The Pizza Pie Method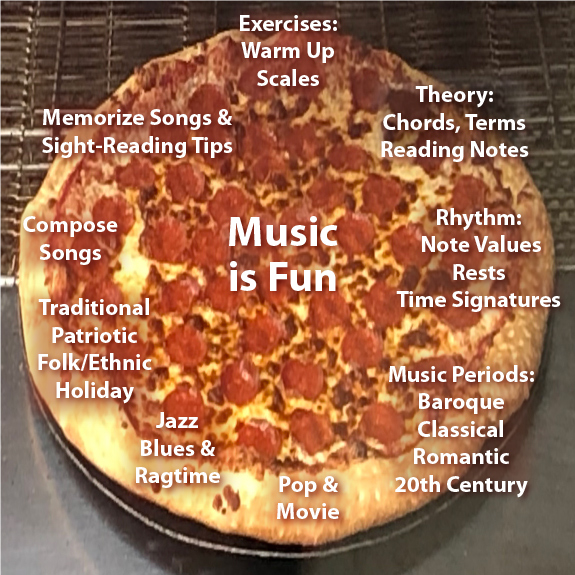 Testimonials
We initially wanted our daughter to take piano to work on her fine motor control issues. Working with Angela became about so much more — gaining confidence through Angela's gentle and encouraging approach to working with her, developing a talent for playing AND composing music, and experiencing the accomplishment that comes with recital performances. Now, I look at her piano lessons as a weekly confidence boost rather than music lessons or fine motor skill practice.
---
Our son has Asperger's and it's a testimonial to Miss Angela Falco and her teaching style that he has been able to continue learning the Piano. She has been patient, kind, flexible and very encouraging and he has responded quite well to her. We are fortunate to have found Miss Falco when we did and hope our son continues learning piano.
---
Angela is a most phenomenal piano teacher, who always manages to make her lessons fun, no matter how challenging they may be. She has the natural ability to recognize each student's unique talents and bring the best out of them. It has been a joy to watch our daughter thrive and grow in confidence under Angela's guidance. We are so honored that such an accomplished teacher, artist and performer is instructing our daughter!
---
Angela makes piano fun! We really have a great time together. Her "pizza pie" approach to presenting the various musical styles is engaging and ensures that there is something for everyone. That exposure allows the student to discover their interests and develop their talents accordingly. We also appreciate being included in the process, whether through duets or the choice of repertoire. The occasional piece of candy doesn't hurt either…
---
Angela is such a wonderful, caring, and talented teacher to our two children aged 6 (piano) and 10 (flute). Her holistic approach has helped our kids establish a solid foundation and appreciation of all aspects of music. We are so thankful to have found her!
---
Angela is an amazing flute teacher! She is always there for the student, helping through difficult pieces, encouraging them at every step and taking so much joy from their accomplishments! My daughter absolutely loves taking lessons from Angela and is doing great at her school orchestra too. She even took time on her day off to help my daughter improve on her difficult music at school. I would highly recommend Angela!
From that parent's daughter, a middle school flute student:
Miss Angela is very passionate about teaching music, and she invests herself in her student's lives, career and future! She is very kind, and I always look forward to sharing my news about orchestra with her!
Introduction
Angela Falco is a highly motivated teacher who provides an enthusiastic musical setting for the student. She combines performance, composing, studio recording experiences & educational studies into a unique style of teaching. She has taught in early childhood, public, private & university settings.
Teaching Philosophy
Unlocking the key to one's learning style, achieving self-expression, creativity and a sense of accomplishment using all styles of music are a few of my goals for the student.
Education
Master's degree (MA) Music Therapy & Special Education Certification (Immaculata University), Bachelor's degrees in Music Performance & Music Education (Philadelphia College of Performing Arts, currently, University of the Arts), New York University music therapy Nordoff-Robbins improvisational courses, certified teacher Music Together® Program. Angela studied flute at University of the Arts, under Adeline Tomasone & Joseph Musemeci, soloists with the Philadelphia Orchestra, Harold Bennett, NY Metropolitan Opera Orchestra, John Krell, piccolo with the Philadelphia Orchestra & Latin Grammy winner, classical/jazz flutist, Nestor Torres. She continues to study piano with renowned jazz pianist, Andy LaVerne.