Carol's Angel
Carol Detwiler-Charlesworth, 2009
"Carol's Angel" is an instrumental composed for Carol Detwiler-Charlesworth, a dear friend, recently departed and deeply-missed. Diagnosed at birth with a heart condition, and not expected to survive past age five, she lived a full life to the age of 61. Carol's philosophy was "Every day is a gift!"
A video combining the art of dance movement with this song features a talented ensemble of dancers filmed in Untermeyer Park, a scenic Grecian-style garden in Yonkers, NY, built in the early 1900s.
A gallery of photographs taken by Stephanie Abiva during the video production is available here.
The music video and a behind-the-scenes video may be viewed here.
Background information on the Project Team may be viewed here.
---
Angela, Mary & the Angel Statue,
Yonkers 2014
My, There Are Angels Everywhere!
"It was a cold, cloudy day in November, as Artistic Director, Mary Sofianos and I completed the filming of "Carol's Angel" at Untermyer Park, Yonkers, NY. The clouds began to part and rays of sunshine immediately beamed on the park. Walking to our cars, Mary and I looked to the sky, hugged each other and thanked Carol for helping us to accomplish the long awaited day of filming my music to her creative dance movements with her talented production team. As I looked to the right, I saw hidden in a semicircle of trees, sitting benches and a large statue of an Angel. The Angel was a memorial to the fallen firefighters of Yonkers. Yes, I believe that Carol, along with the memorial and all the other angels among us, were guiding us to bring you this beautiful video portraying support, love, and friendship—a true gift from above." — Angela Falco
Mary Sofianos served as Artistic Director for the video, and she organized the ensemble of dance students (Chance Meeting Collective) from Lehman College who performed.
Paying it Forward – Angela always dreamed of combining choreography with her compositions. Choosing students from Lehman College and Mary Sofianos's other team members was a way to "Pay it Forward" and help young artists to express themselves. Angela adds: "I know that Carol is guiding us and after all, isn't that what life is about, helping each other to grow in a positive environment."
---
Mary Sofianos is a multidisciplinary artist intrigued by the human condition. Mary creates deeply driven emotional works that combine elements of classical and modern techniques as well as free form dance improvisation.
As a dancer, Mary has participated in Fresh and Where the Wild Things Are directed by Brittany Wilson, the STREB SLAM Remote Project and BioActiveBridging in Yorktown Heights. Her choreographic works have been presented at the Talking Arts Foundation in collaboration with Skin Against Metal, The Bronx Academy of Art and Dance directed by Arthur Aviles and The Tank theater in Manhattan.
Mary graduated magna cum laude from CUNY Lehman College with a B.A in Dance and Art and was the recipient of the Joan Miller Legacy award. Mary is the founder and artistic director of the Bronx-based Chance Meeting Collective and dances with Hip Hop Theory: The Company.
Website: www.mjsofianos.com
---
Music Credits
Produced – Chris Zurzolo & Angela Falco
Recorded/Engineered/Mixed – Chris Zurzolo at Medicine Man Studios, Bala Cynwyd, PA
Assistant Engineer – Josh Giannone
Mastered – Peter Humphreys at Masterworks Recording, Philadelphia, PA
Piano/Composer – Angela Falco
Soprano Sax – Jim Falco
Upright Bass – Rich Kelly
Percussion – Edgardo Cintron
Background Vocals – Chelsea Weaver
© 2014 Angela Falco (Angela Falco Publishing/ASCAP)

Video Credits
Production Director – Anthony Sofianos
Production Assistant – Gabriel De Jesus
Video Director – MJ Abiva
Editors – MJ Abiva and Chris Zurzolo
Choreography – Chance Meeting Collective
Artistic Director – Mary Sofianos
Assistant Artistic Director – Emylice Landestoy
Dancers: Christina "CC" Cruz, Manuela Diaz, Emylice Landestoy, Beverly Lopez, Rashida Lyles, Starr Montalvo, Lourdes "Loli" Santiago, Mary Sofianos
Location Photography – Stephanie Abiva
Makeup Artist – Olympia Minichino
© 2015 Angela Falco LLC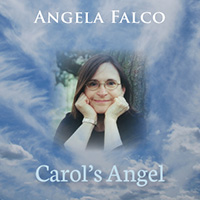 Carol's Angel
A moving instrumental tribute to a dear friend, now departed.
---
Visit Spotify to listen to the song.
---
---
Photo Credits

Cover design:
© 2014 John O. Senior


Mary Sofianos photo:
© 2014 Melanie Minichino