Leaving Home
Through times of change, I am comforted through inner reflection, the ability to compose, and most of all my faith. I am pleased to share with you my album "Leaving Home".
Moving from my East Coast/Philadelphia roots to the West Coast was a chapter in my life for which I am forever grateful. When I was in the seventh grade, I knew after the first plane trip with my parents to Los Angeles, California that I wanted to return to the "City of Angels".
Recording in a world class studio with recognized artists supporting my music was a dream come true! Much credit and gratitude goes to Gary Myerberg-Lauter, Ted Greenberg, Bernie Grundman, Chrissy Primiano, and all the other musicians for making these compositions on my manuscript paper come to life.
Cherish your family traditions wherever the spinning world globe from grade school may take you... Enjoy!
---
Songs
| | |
| --- | --- |
| Butterflies are Free | Washed |
| Two Lovers | Cash |
| Vampire | Run Away |
| Mission Street | Dancing with Rama |
| Linus | Leaving Home |
---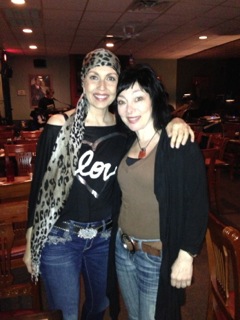 Christina Primiano was a professional vocalist starting at age seven, and had the opportunity to work all over the USA as well as abroad. Christina was diagnosed with breast cancer in 2006 and bravely battled the disease for eight years. She was acknowledged as a recipient at The Ribbons of Hope 2012 fundraiser.
Dance for the Cure is an amazing non-profit organization that raises funds that are given directly to families and individuals who are battling cancer. For more information on Dance for the Cure, or to make a donation, go to danceforthecure.org, or contact Joanne Liscovitz, (chairperson), at 908-642-5341.
---
Credits
Angela Falco – Piano, Flute
Chrissy Primiano – Lead and Background Vocals
Ted Greenberg – Drums, Bass, Guitar, Sitar, Harmonica, Wurlitzer, Piano, Lead and Background Vocals, Hammond B3 Organ, ARP Synthesizer,
Peggy Baldwin – Cello on "Vampire", "Two Lovers", "Mission Street"
Patrick Leonard – Hammond B3 Organ on "Butterflies are Free", "Washed"
Dan Swartz – Bass on "Linus"
Padraic Coursey – Guitar on "Vampire", "Mission Street", "Two Lovers"
Gary Myerberg-Lauter – Guitar solo on "Washed", "Butterflies are Free"
Ashley Arison – Background vocals, all songs except "Mission Street" and "Vampire"
Tahlia Harrison – Background vocals on "Vampire"
Produced by Ted Greenberg and Angela Falco
Engineered by Ted Greenberg and Gary Myerberg-Lauter
Assistant Engineer: Beau Raymond
Recorded at Cello Studios, Hollywood, CA
Mixed by Ted Greenberg at Tedley Grange, North Hollywood, CA
Mastered by Bernie Grundman, Hollywood, CA
All songs written by Angela Falco (ASCAP), Ted Greenberg (BMI), and Gary Myerberg-Lauter except "Mission Street" written by Angela Falco (ASCAP), Ted Greenberg (BMI)
© 2004 Angela Records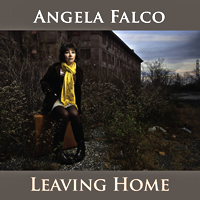 Leaving Home
An album of ten original songs featuring Christina Primiano.
Visit Spotify to listen to the album tracks.
Christina Primiano
March 17,1968 - March 25, 2014
A talented, inspirational woman who touched the lives of countless people with her grace, beauty, and courage while facing breast cancer. Chrissy's vocals, heard on the CD "Leaving Home," will surely touch your heart.
---
Photo Credits

Cover image:
© 2012 Joe Amodei