Deep in My Heart
"Deep in My Heart" is an expression of healing resulting from the loss of many people, places, animals and treasures that I held so close to my heart. As troubled times stood in front of me, I asked how in the world would I get through this chapter of my life. I was very lucky to have supportive family and friends listening hours upon hours to my emotional trials, but the key was how Angela could heal without any assistance. It all seemed quite simple. Yes! Just compose and write everyday! Hearing themes that ran through my mind, I began to put my pencil to work. I loved playing my brother's piano since childhood in the living room of my parents' house. My father, who was quite ill, often listened from the kitchen as he sipped his cup of coffee from the old brewing pot, enjoyed with my best friend, my Mom. One day he asked, "Hey! I like that song, who wrote it?" I shouted, "It is my new composition and it doesn't have a name" "You wrote that song!" Dad exclaimed in a surprised voice. "Since I am selling the home your Mother and I built, call the song 'Don't Know Where I'm Going.'" My hand began shaking and tears began to flow as I wrote Dad's suggested title on the staff paper.
Time passed and so did my Dad.
These events helped me to decide to call my college friend Chris to request recording at his studio. No band, no flute, no singing, no production, just solo piano. Chris answered the phone with encouraging words: "Just play and be Angela." There was no judgment or criticism of the compositions or performances, something I had often encountered before. Yes, composing, playing the piano and flute from childhood guided me through this long empty journey that I thought would never end. The moments that I thought were lost at this time of my life were found to be forever in my heart. Therefore, I am wishing that these unforgettable melodies presented in "Deep in My Heart" will inspire you to find what is really "Deep in Your Heart."
---
Titles
| | |
| --- | --- |
| Deep in My Heart | Falling Tears |
| Reflection | Lift Me Up |
| Waiting for You | Olivia |
| Follow Your Heart | Too Little Too Late |
| Alone in My Memories | You and I |
| Don't Know Where I'm Going | I'm Sorry |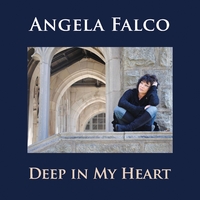 Deep in My Heart
A collection of twelve heartfelt original pieces for solo piano.
Visit Spotify to listen to the album tracks.